I don't usually get a lot of time to read novels due to juggling lots of work, family & a stack of aviation magazines. That said, I still love reading Sci Fi & Fantasy as well as aviation related books. I've also recently signed up with LibraryThing as an "early reviewer" to get access to new books (typically in eBook format) so I can find new authors & works to follow when we're buying books.
You can follow my book reading via my LibraryThing account which should give you an idea of the eclectic nature of my readings lately :) Two books I've recently received & finished thanks to LibraryThing's "Early Reviewers" and "Member Giveaways" include:
San Joaquin Siren A great (auto)biography of Bill Behrns who flew P38s in the China/Burma/India theatre during WWII. For more detail on this one, check out the review I've posted on my flying blog.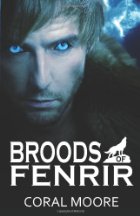 Broods of Fenrir by Coral Moore. An enjoyable read that had me hooked from start to finish, travelling through the various plots that were unfolding, running together & merging towards the conclusion. With an interesting approach to the roles & rules of wolf packs and overtones of vampirism in their use of blood to bond & play, the book presents a new look at lycans that's well worth considering.
There are others that I've got to read and another that I've read & reviewed but am waiting on Nykolai to read & comment on. Turns out it was a Young Adult novella which could explain why I found it an OK & easy read but a little light in some areas. If Nykolai thinks it's good then I'll update the review with an increased rating :) :)
So much to read, so little time. Oh well, at least I can have a beer or two while relaxing with a book :)